A tasty replacement for Green Bean Casserole!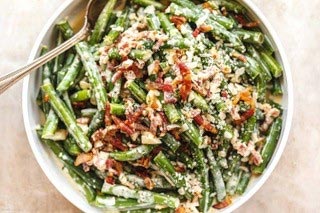 Ingredients
2 lb. green beans, washed and trimmed
8 slices bacon, chopped into small pieces
1/2 onion, chopped
1/8 c. Tubby Olive Spicy Pesto, Garlic  or Black Pepper Olive Oil
1/2 t. sea salt
1/4 t. freshly ground pepper
5 T. grated Parmesan cheese
Directions
Preheat oven to 425 degrees. Place green beans on an oiled/sprayed baking sheet. Top with bacon, onion, olive oil, salt & pepper and mix well. Spread evenly across pan in a single layer. Sprinkle Parmesan over top.  Bake 18-20 minutes until bacon is crisp and beans are beginning to brown. Serves 5-6.