About Us
A treat for your taste buds
Gourmet Olive Oil & Vinegars
Newtown & Philadelphia, PA Stores
The Tubby Olive is nestled in the borough of historic Newtown, in Bucks County, just north of Center City Philadelphia, the Delaware Valley and an easy commute from New York City. It has been open since 2010 and is a charming food & gourmet shop that offers an extensive selection of traditional Extra Virgin, infused and organic olive oils and balsamic vinegars "on tap" for you to taste.
All of our traditional olive oils are laboratory tested for nutritional content and include Polyphenol, Free Fatty Acid, and Oleic Acid counts. These numbers demonstrate the health benefits and freshness of our products; we enjoy educating our customers about the nutritional aspects and culinary applications of our top quality line-up.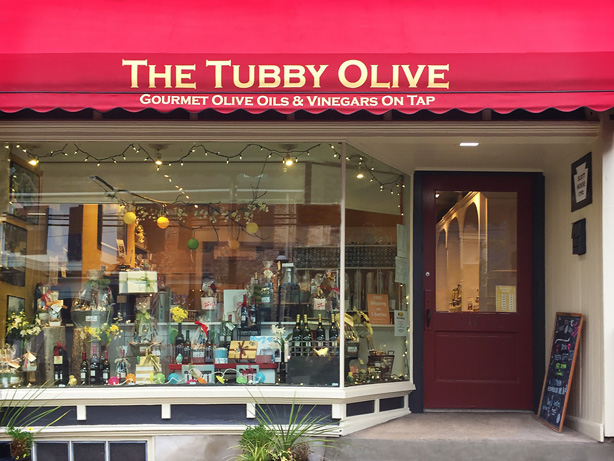 Specialty Foods & Gifts
The Tubby Olive has a large variety of specialty foods, local products and gourmet gifts. Our gift packages are handmade and beautifully presented; they contain our most popular oil and balsamic pairings and our complementary artisanal items. Custom gifts for any occasion are available as well. A large selection of recipes is displayed in our "Recipe Room" and is readily available to customers.  Recipes range from simple to complex, for an array of foods, from appetizers to desserts
Area Events, Tastings and Guest Chefs

 
The Tubby Olive participates in area events and in-store demonstrations on a limited basis; the frequency of events is based upon restrictions due to health concerns in the community. We invite local "guest chefs" to present recipes and tastings of their products and to "talk food" with our customers. Tasting parties are available for small groups and are scheduled after hours.
To receive recipes and event & tastings announcements ahead of time, sign up for our montly email newsletter!
About the Owner
In April of 2023, Rishona Myers became the sole owner of The Tubby Olive. She is looking forward to continuing the legacy established by the previous owners since 2010. Her goal is to continue to offer the finest, freshest, and most flavorful products in the marketplace, while providing outstanding customer service. Myers is an established business owner, with seven years in the olive oil and balsamic vinegar world. She loves to cook and is passionate about creating great food using high quality, fresh and flavorful ingredients. When she's not working at one of her two retail establishments, she's spending time with her husband, two daughters and 5 cats. Rishona enjoys traveling to experience different 

cultures and cuisines, which later inspire her cooking. 
My husband got me a few oils and balsamics and we have been in heaven…All I need is a fresh loaf of bread, some cheese, and any of their selections and I'm a happy girl! YUM!
Tubby Olive Gourmet Gift Tubs & Corporate Gifts Online
Our extensive gift collection comes in a variety of sizes and prices.  Beautifully packaged in our aged metal tubs, dishes, and packaging with a selection of our oils, balsamics, and specialty products, they are sure to delight everyone on your shopping list.  It's a great way to say thank you to that special client or customer….or to thank a deserving employee.
Shop our online store now!  See how easy it is to send a beautiful and delicious gourmet gift!