Happy New Year! We have a new January Coupon! Save $5 online with order of $50 or more, coupon code "newyear5"
Don't miss our offer for a FREE bottle of your choice, details below. 
Both offers expire 2/3/21.
Curbside orders can now be placed online and picked up at the Newtown location! See details on the checkout page.
The Tubby Olive at Reading Terminal Market is closed. READ MORE
Thank you for your awesome patronage and continued support; please take care and stay safe!
Nancy & Michael Murray, Owners
Check out the Pantry Shopping List!
Peruse the artisanal, local and specialty items we carry in the store, all in one place, on "The Tubby Olive Pantry List".  For extra speedy shopping, print this list ahead of time, mark off what you want and give it to one of our sales associates who will gather the items for you! Or you can call in your order (267-364-5085) and we'll have it ready for you to pick-up. MORE
* Free EVOO bottle offer for a limited time*
Order 5 or more bottles, get FREE shipping and a FREE 375ml bottle of EVOO from the list below.
How to get a free bottle with your online order of 5 or more bottles:  Write your choice in the "Personal Message" section on the checkout page to receive a free bottle with your order. If no choice is indicated, we will add a bottle of EVOO to your order.

NOTE:  If you choose this offer, these bottles cannot be applied to your bottle card.  
Hojiblanca Olive Oil:  This MILD Extra Virgin olive oil comes from Austraila and is fragrant, floral & creamy with no bitterness and notes of peach and parsley.
Chiquititta Olive Oil:  This MILD Extra Virgin olive oil comes from Portugal and is sweet, mild and creamy, with beautiful almond notes and no bitterness.
Melgarejo Hojiblanca This Robust Spanish Extra Virgin Olive Oil is from one of the most decorated producers in the world! Taste the notes of green apple, rose petal and cut herbs, with throat catching pepperiness and marked astringency.
Nocellara Olive Oil:  This MEDIUM  Extra Virgin olive oil is from Sicily and showcases prominent notes of artichoke, a hint of fresh grass, and has a delicate peppery finish.
Oro Bailen Picual Olive Oil: This MEDIUM Extra Virgin olive oil is from Spain and has a fragrant, grassy and savory profile, with stunning notes of tomato leaf and artichoke. A multiple award winner!
Everything's better with a little drizzle…
Extra Virgin Olive Oils and Balsamic Vinegars
Free shipping on 5 or more bottles and/or minimum $100 purchase*
Flat rate on 1-4 bottles, $12*
*Continental US only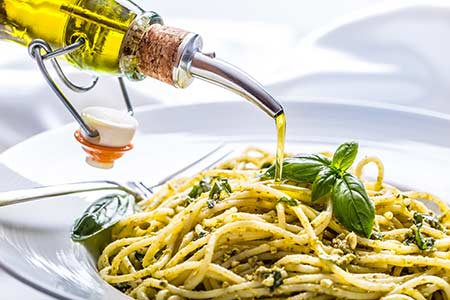 We offer a wide selection of the freshest, healthiest extra virgin olive oils, most flavorful infused olive oils and top quality specialty oils including: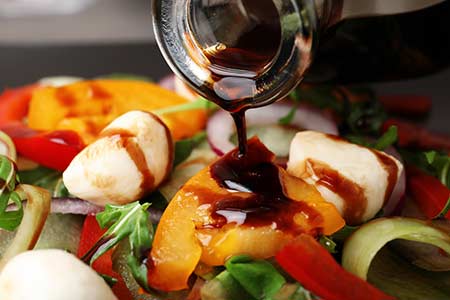 A large selection of barrel-aged and naturally flavored Balsamic Vinegars, are available: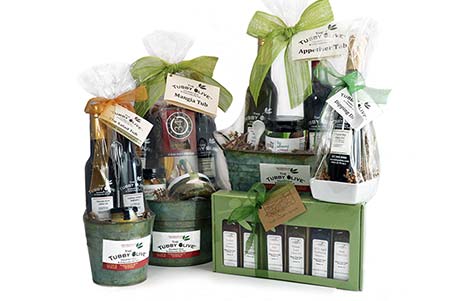 We assemble by hand a collection of unique gifts, made with our oils, balsamics and gourmet food items:
Read about our Perfect Pairs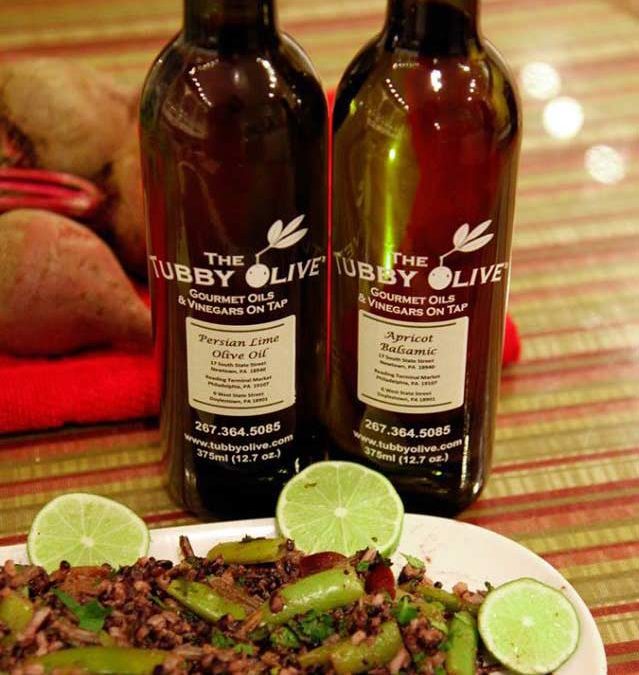 Next time you come into The Tubby Olive you'll see "perfect pairs" everywhere! Our sales associates will show you how to mix an oil with a...
read more
It's one week later and we are still talking about the wonderful wedding and reception for our daughter Alena and her husband Chido. I must tell you the favors were beyond belief! … raving about the favors is an understatement… Thank you for the special attention that was given into putting these favors together… I will be recommending Tubby Olive to everyone I know who is planning a wedding and/or shower and certainly for all of your other wonderful products!!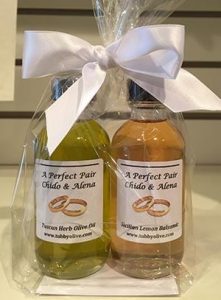 Gingerbread Olive Oil Cookies Ingredients: 3 1/4 cup all purpose flour 2 tsp ground ginger 1 1/2 tsp ground cinnamon 3/4 tsp baking soda 1/2 tsp...
read more
Weddings and Parties
We offer unique "Perfect Pair" favors for that special event!
Weddings, bridal showers, birthdays, retirement parties, office parties…any celebration!
Corporate Gifts
Our corporate gifts are the perfect way to say thank you to your clients and customers.
Sign up for our enews for coupons, recipes, & more!