Cranberry Pear Balsamic is our top selling WHITE balsamic.
It has a clean and tart flavor with crisp-fruity notes of pear. It has a multitude of culinary applications; use it to dress fresh fruit, as a balsamic on your favorite green salad, as a glaze for poultry, a marinade for fish, and so much more!
Cranberry Pear Pork Tenderloin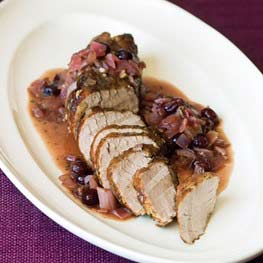 Ingredients
1-1/2 lb pork tenderloin, trimmed of silver skin
1 pear cut into 1" chunks
½ cup dried cranberries
1/3 cup Tubby Olive Cranberry-Pear Vinegar
1/3 cup Tubby Olive Blood Orange Olive Oil
1/2 tsp ground coriander (optional)
Sea salt, freshly ground pepper
2 TB Tubby Olive Blood Orange Oil
2 TB butter
Directions
Heat oven to 400 degrees. Place pork tenderloin in a plastic bag. Add the Cranberry Pear vinegar, Blood Orange oil, (and coriander if using) to the bag. Let marinate at least 1 hour.
Pat dry pork and sprinkle with salt and pepper. Heat 2 TB Blood Orange Oil in saute pan and sear pork over medium high heat until browned on all sides. Place the pork in another pan and put in hot oven and roast for 13-15 minutes or until meat thermometer reaches at least 150 degrees.
Using the saute pan, melt 2 TB butter and add pear pieces and dried cranberries. Scrape up browned bits from the pork and stir until pear is softened and turning golden. Remove pork from oven, slice and place on plate. Spread the pear/cranberry mixture over the pork, and enjoy!
Cranberry Sparkler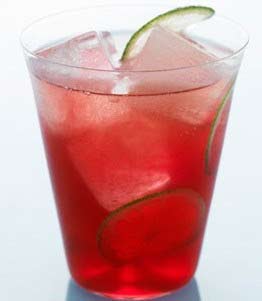 Ingredients
1-3 TB Tubby Olive Cranberry Pear Balsamic
8 oz. Sparkling water or club soda
Fresh lime cut into wedges
(For an adult version, add vodka)
Directions
Pour sparkling water into glass and add balsamic, 1 tablespoon at a time, stirring and tasting, until you've reached the desired flavor. Add ice and a squeeze of lime.  Enjoy!