Try our chutney! Shown here as a topper to Brie on toast rounds.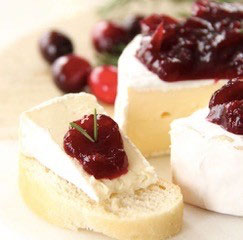 Ingredients
1/2 c. sugar
1/4 . water
2 c. fresh cranberries
1/3. golden raisins
3 t. Tubby Olive Cranberry-Pear White Balsamic 
3/4 T. curry powder
1 T. molasses
1 T. fresh ginger, minced (don't have to peel)
1/2 T. Worcestershire sauce
1/4 t. hot pepper sauce
1/2 t. salt
Directions
Add all ingredients to large heavy saucepan. Bring to a boil and cook over low heat about 15-20 minutes until cranberries burst and the sauce is the consistency you like. Serve as an accompaniment to turkey or a spread on sandwiches.  Serves 6-8.