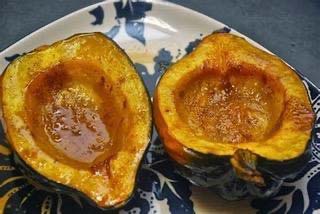 Ingredients
1 Acorn squash
3 T. Tubby Olive Blood Orange Olive Oil
3 T. Tubby Olive Aged Pure Maple Balsamic
Sea Salt to sprinkle
2 T. brown sugar
Directions:
Preheat oven to 350. Cut squash in half lengthwise and place face down on shallow baking dish. Bake for 30 minutes until tender. Turn cut side up, season with the oil, Balsamic, a sprinkle of salt, and brown sugar. Bake for another 20 minutes. Serves 2.