Gingerbread Yummy with Maple Balsamic!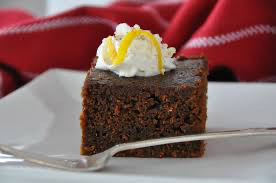 2 1/2 c. sifted flour & 1 1/2 tsp. baking soda
1 tsp. ground cinnamon
2 tsps. ground ginger
1/2 tsp. ground cloves
1/2 tsp. salt
1/2 c. Tubby Olive Butter Olive Oil
1/2 cup sugar
1 egg
1/2 c. molasses
1/2 c. Tubby Olive Maple Balsamic
1 cup hot water
Sift together flour, baking soda, cinnamon, ginger, cloves and salt.  Cream
olive oil and sugar until light and fluffy.  Add egg & beat well.  Gradually beat in molasses and balsamic.  Add dry ingredients alternately with water, beating well after each addition.  Pour batter into greased 13 x 9 x 2 inch baking pan. Bake at 350 degrees for 30 minutes or until done (not over done). Cool in pan on rack.  Makes 16 servings.